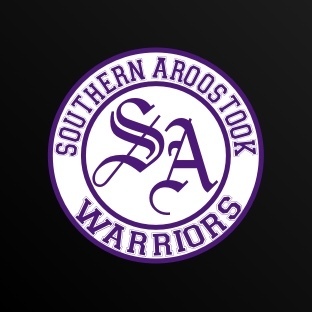 So. Aroostook High School 2019-20 Student Highlights and Awards
Jon Porter
Tuesday, June 16, 2020
Congratulations to the following students and staff on their outstanding academic and co-curricular accomplishments during the 2019-20 school year:
All Aroostook Band: Wyatt Harthorne, Maggie Harthorne, Alyssa Crandall, Emily Canavan, Abigail Stevens, Bailey Vose, Jordyn Bishop, Nathan Mahan, & Callie Russell
All New England Band: Emily Canavan
National Institute of Automotive Service Excellence Award: Gunner Siltz
President's Volunteer Service Bronze Award: Sydney Brewer
Heisman High School Scholarship State Winner: Makaelyn Porter
Daughters of American Revolution Good Citizen Award: Makaelyn Porter
All Aroostook Soccer:
Class D Boys Team: Jacob Ritchie, Gavin Vining, Xavier Morales
Class D Girls Team: Sydney Brewer, Makaelyn Porter, Paige Vose, & Emma Nadeau
Maine Soccer Coaches All-East Soccer Team: Sydney Brewer, Makaelyn Porter, and Gavin Vining
Class D Boys Soccer Sportsmanship Award: So. Aroostook Boys Soccer Team & Coaches Austin & Alex White
Butch Shaw Award Presented by Northern Maine Board of Soccer Officials, Sportsmanship Award:
Sydney Brewer & Makaelyn Porter
Southern Aroostook Varsity Cheerleaders-"Spirit Award"
The SACS Varsity Cheerleaders placed 4th in the Aroostook County Cheering Competition and earned the "Spirit Award" for the second consecutive year. The award is given to the team that demonstrates outstanding sportsmanship during the competition.
All-Aroostook Basketball Team:
Class D Boys Team: Hunter Burpee, Xavier Morales, & Camden Porter
Class D Girls Team: Kacy Daggett, Makaelyn Porter, & Madison Russell
Class D Basketball North Regional All-Tournament Girls Team:
Kacy Daggett, Madison Russell, & Makaelyn Porter, Tournament MVP
IABBO #150 Sportsmanship Award-Girls:
So. Aroostook Girls Basketball Team & Coaches Cliff Urquhart & Brandon McCarthy
McDonald's Senior All Star & Aroostook Senior All-Star Basketball Game: Makaelyn Porter
Aroostook League Senior Scholar/Athlete Award: Gavin Vining & Makaelyn Porter
Class D Northern Maine Girls Basketball Champions and Class D State Runner-Up:
So. Aroostook Girls High School Basketball Team & Coaches Cliff Urquhart & Brandon McCarthy
2020 Bangor Daily News All-State Girls Team, Honorable Mention: Madison Russell and Makaelyn Porter
2020 MPA Principal's Award: Abigail Stevens
2020 Dirigo Boys State: Jacob Brooks & Wyatt Harthorne Alternate: Lucas Duff
2020 Dirigo Girls State: Kacy Daggett & Paige Vose Alternate: Delaney Greenlaw
2019-20 So. Aroostook Chapter of the National Honor Society Members:
Sydney Brewer, Levi Brown, Emily Canavan, Maia Crandall, Kayla Gadsby, Alexis Hartin,
Hannah Landry, Makaelyn Porter, Abby Stevens, Gavin Vining, Rose Arnts, Jacob Brooks,
Hannah Brown, Kacy Daggett, Delaney Greenlaw, Wyatt Harthorne, Emma Nadeau, & Paige Vose
New inductees in Spring 2020:
Hunter Burpee, Bre Daggett, Lindsay Derosier,,Lucas Duff ,Carson Grant, Collin Grant, Esther Greene, Jordyn Legassee, & Nate Mahan
SACS Class of 2020-Graduating with Honors
Summa Cum Laude 3.75-4.00
Abigail Stevens
Magna Cum Laude 3.4-3.75
Emily Canavan, Carson Grant, Hannah Landry, & Makaelyn Porter
Cum Laude 3.0-3.4
Sydney Brewer, Levi Brown, Kayla Gadsby, Alexis Hartin ,Wyatt Nadeau, Gavin Vining, & Shelby Violette
Hugh O'Brian Youth Leadership Award & Conference (HOBY)
Brianna Daggett & Gracie Brewer, Alternate: Emily Skinner
Maine Youth Leadership Award & Conference (MYL)
Esther Greene & Nathan Mahan, Alternate: Emily Skinner
2020 United States Presidential Scholars Program Nominee: Abigail Stevens
End of Year High School Academic Awards
Precalculus: For technical excellence and superior written presentation skills: Rose Arnts
Algebra II: For performance, aptitude, determination, and skill in written presentation: Delaney Greenlaw, Hunter Burpee, & Lindsay Derosier
Geometry 10/11: For determination and overall excellence: Esther Greene
Geometry 10/11: For subject interest, participation, and contributions to class environment: Jonica Lord & Emily Stewart
Geometry 9: For performance, aptitude, subject interest, determination, and superior presentation skills: Maggie Harthorne & Callie Russell
Academic Excellence in Human Biology: Makaelyn Porter
Academic Excellence in Chemistry: Collin Grant
Excellence in Earth Science: Jennah Brooks, Callie Russell, Maggie Harthorne, Madison Russell, Alyssa Crandall, Shayna McMannus, John Langer, Alexia Maclaren, & Suzie Mathers
Significant Improvement in Earth Science: Reubin Campbell
Excellence in Biology: Esther Greene, Lindsay Derosier, Broden Wood, Aedan Gadsby, Adain Bubar, and Laura Lyons
Excellence in Science Elective: Shaylyn Lindsay
Excellence in Honors History: Makaelyn Porter
Excellence in College United States History: Wyatt Harthorne
Excellence in World History: Hunter Burpee & Esther Greene
Most Knowledge in World History: Broden Wood
Excellence in Civics: Maggie Harthorne
Most Curious and Enthusiastic Learner in History: Alexia Maclaren
Physical Education Good Sportsmanship Award: Jennah Brooks, Camden Porter, Callie Russell, Andrew Lewis, Brianna Daggett, Esther Greene, & Adain Bubar
Physical Education Extra Effort Award: Chance Barrows & Devon Tarr
Excellence in Health: Chance Barrows, Maggie Harthorne, Callie Russell, Camden Porter, Julia Murray, Jordyn Legassey, Cheyenne Lane, & Esther Greene
Excellence in Spanish II: Broden Wood, Esther Greene, & Lindsay Derosier
Excellence in Spanish I: Alexia Maclaren, Maggie Harthorne, Callie Russell, & Alyssa Crandall
Excellence in English 9: Maggie Harthorne
Achievement, Dedication, and Commitment in English 9: Shayna McMannus
Excellence in English 10: Hunter Burpee
Excellence in Creative Writing: Maggie Harthorne & Esther Greene
Achievement in English 11: Wyatt Harthorne, Emma Nadeau, Jacob Brooks, Collin Grant, Rose Arnts, & Hannah Brown
High Achievement in English 11: Delaney Greenlaw

Significant Improvement in English 11: Lucas Duff & Glenn Cameron
Achievement in English 12: Daniel Arnts & Carson Grant
Commitment and Dedication in English 12: Shelby Violette
Journalism, Excellence in Newspaper Design: Esther Greene
Journalism, Outstanding Columnist: Maggie Harthorne
Journalism, Most Enthusiastic Journalist: Alexia Maclaren
Drama, Aspiring Actor: Cameron Tarr
Drama, Aspiring Actress: Breanna Wright
Drama, Natural Talent in Theater: Alexis Noyes
Drama, D.J. of the Year: Wyatt Harthorne
Drama, Leadership in Class Activities: Selena Botting & Emily Skinner
Drama, Significant Growth in the Performing Arts: Laura Lyons